Phone: 206-525-1577 (9am to 9pm pacific time) or
write: 5415 Greenwood Ave. N, Seattle, Washington, 98103 USA
email: karen (you know how to punctuate at here but the auto-spammers don't)
seymourstainedglass.com. Be sure to put stained glass in the subject or it may be lost in the spam.
Like us on Facebook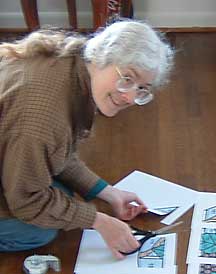 About Us
Karen Seymour loves the playing with light that stained glass allows. She passes her enthusiasm on to her students through the classes she teaches with her partner Dick Seymour and through her instructional books. Her naturalistic designs show evidence of both her quilting background and her MS in marine botany. The many years she spent in computer training show up in her patient instruction of students and in the computer generated patterns she produces.
In 1998, Karen went looking for a table for the back yard. She saw a stone mosaic top at a local garden store and thought "I can do better than that". Based on some stained glass instruction way back in high school, she made her first table, a 48" koi pond. Then all her friends and relatives wanted one too. The local glass shop invited her to teach the technique and her books grew out of those instructional materials.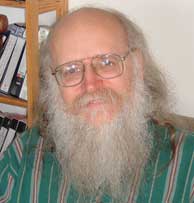 Dick Seymour acts as roadie for the art shows and as self described "class heckler". He recently retired from managing computer systems for physicists at the University of Washington. His coworkers were people who investigate the universe by smashing things apart -- you can imagine what they do to computers.
This gives him lots of patience in assisting stained glass students learning to cut glass. He makes the circut boards for the lanterns and helps with the metalwork. His major hobby is astronomy and he spends his spare time on-line assisting Meade Telescope users.
Our traveling glass class (yes, we like the Sprinter):