Custom classes
are a great idea for
birthday parties,
garden clubs,
mother-daughter bonding,
art groups etc.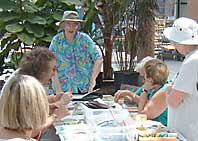 Beginning Class Project: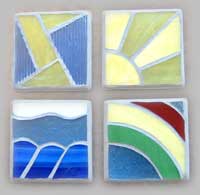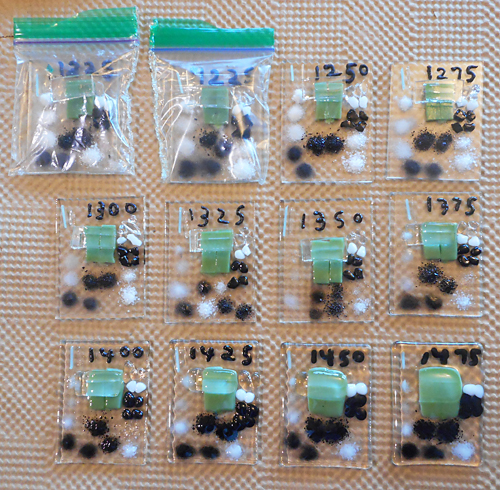 Glass Applique:
Beginner's All-You-Need-To-Know in about 3 hours
Learn how to transform your ordinary glass topped patio table into a stained glass jewel. You will practice by making your own 4 inch "mini-tabletop" which you can take home and use as a coaster. We teach you how to cut and grind glass -- no prior experience needed. Glue and grout can get messy so wear appropriate clothing, including closed-toed shoes. Bring your own eye protection or wear our goggles. Instruction booklet, all supplies and tool use are included in the class fee. Pre-registration is required: call 206-525-1577. $79
November 3 (Saturday), 10:00 am

January 12, 2019 (Saturday), 10:00 am
If these dates don't work for you, please call 206-525-1577 to arrange a private class at our studio (up to 6 students, $79 per student; other applique projects and leaded/copper foil training available, call for pricing). Or buy my book.
---
Tacky Fusing (not a beginner's class)
Go beyond simply using the pre-programmed tack or fuse on your kiln. A 2 to 3 hour discussion of what happens at what temperature as glass softens in the kiln and how you can work with this and/or avoid problems caused by this. We end with an optional practice programming my kiln. Adding texture gives a whole new dimension to your work!
$30; Yes, you can purchase the 13 piece sample set we use for $130 and then the discussion is free whenever you want to attend. Call 206-525-1577 to register.
November 4 (Sunday) 12:30 pm
January 5, 2019 (Saturday), 10:00 am