Custom classes
are a great idea for
birthday parties,
garden groups
mother-daughter
bonding* etc.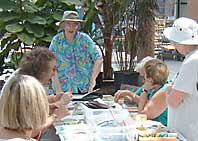 Beginning Class Project: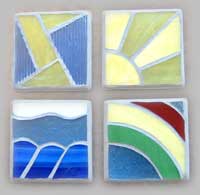 Beginner's 3 and a half hour All-You-Need-To-Know
Learn how to transform your ordinary glass topped patio table into a stained glass jewel. Karen and Dick Seymour guide you though all the steps of making a stained glass table top. You will practice by making your own 4 inch "mini-tabletop" which you can take home and use as a coaster. Instruction booklet, all supplies and tool use are included in the class fee.
We teach you how to cut and grind glass -- no prior experience needed. Glue and grout can get messy so wear appropriate clothing -- including closed-toed shoes. Bring your own eye protection or wear our goggles. Preregistration is required. Class size is limited so call to register soon to reserve your place.
*Children must be accompanied by parent. Those under 12 years old usually don't have the strength and coordination to be successful at this.
Additional classes as they are scheduled.
If these don't work for you, please call 206-525-1577 to arrange a private class at our studio (beginning class for 1 to 6 students is $79 per student; other applique projects and leaded/copper foil training available, call for pricing). Or buy my book.
Or check with your local glass or garden store and have them call me if they would like to host a glass applique class. We'll come to you if you get 6 to 12 students and have a suitable space (call for details).