Books
Book 1: Glass on Glass
Book 2: Garden Light
Oops! page 42 wiring diagram correction for Garden Light
Illustrated instructions with patterns printed in the book plus on the
included CD in both colored/numbered and line drawing format.
Print full sized patterns from your own computer
(what you save at the copy center might pay for the book).
You may be able to get Karen's self-published books at your local glass
store (tell them CKE is distributing if they are buying by the dozen).
But if you can't find them, we'll be glad to send them to you:
just click the PayPal links below.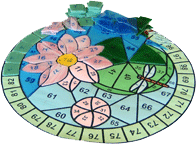 Example pattern: Insert the CD, print, and tape all the pages together. On most printers output can be scaled to fit your table etc.
Garden Light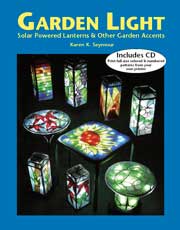 (book 2)
Solar Powered Lanterns and
Other Garden Accents
Glass-on-glass appliqué to brighten your garden. Transform an ordinary glass-topped table into a work of art, a platter into a jewel-like birdbath and a storage jar into a colorful, solar powered lantern (lanterns can also be created using traditional lead or copper foil for indoor use). Similar in format to Karen's previous book, "Glass On Glass", this book differs in assuming you have basic glass cutting skills. 48 pp, full color with pattern CD
Oops! page 42 wiring diagram correction for Garden Light
Plus character set for adding house numbers, words and dates to your lantern
Lantern hangers and birdbath/table supports from ordinary hardware store parts
Solar powered LED basics, circuit layout and suggested sources
Solar panel and circuit parts kit available.
Available NOW!
Normal retail price is $28.95
Our special
introductory price is
$24.95 plus shipping
purchase Garden Light
via PayPal:
 Refund policy
---
Glass on Glass
Stained Glass Table Tops
You Can See Through
Complete instructions for appliqueing stained glass to an existing tempered glass tabletop. Includes detailed instructions for gardeners and other beginners. 48pp in full color plus pattern CD
14 round table patterns in a variety of sizes
---
(Book1)