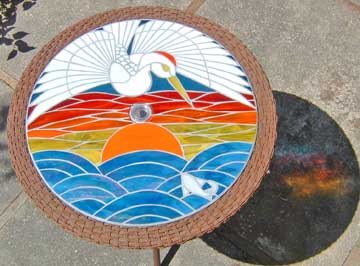 Call now (206-525-1577) to order a custom stained glass table, solar lantern or other accent piece for your home or garden. Initial discussion is free and we really prefer the give and take of a phone conversation to email. If you like the style of work you see on these pages, we work with you to design the perfect accent for your garden, poolside or living room. If you are looking for something that is not in our style, we can refer you to other artists who specialize in what you are looking for.
The Ordering Process:
Before detailed design work gets started, you will need to make a deposit which varies with the scope of work but is around 1/4 of the estimated price. Pricing varies with complexity of design, type of glass and size (see pricing exmples below for an idea of what to expect). Once you have confirmed the design and glass selection, it takes at least a month or two of construction time to create the finished art piece. Your position in the queue is determined by the date your design approval and deposit are received.
All of our stained glass artwork is signed by the artist and given its own number so that we can track materials used in case you want similar piece or need to match grout. See samples of Karen's work on the gallery pages or at local art shows.
Most of our work is custom made-to-order including the "kits".

(Yes, you can buy one of our finished tables at an art show or at our studio sale but stock on hand is extremly variable).


Each piece of art is signed and numbered.


Because we use handmade glass, no two pieces are exactly alike.


General questions may be answered on the FAQ page or just give us a call: 206-525-1577 (between 9am and 9pm Pacific time)


Custom Tabletop "Kit"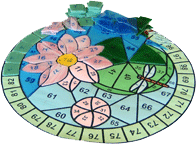 This "kit" is not an off-the-shelf item but a one-of-a-kind custom designed, cut, ground and masked set of pieces all ready for you to glue and grout to your existing glass topped table just as if it were tile.
We send along instructions, tools and a numbered pattern so it it is easy to complete. You can tell your friends you made your table in a couple of weekends (and you don't have the expense buying a bunch of glass working tools or of shipping a large table across the country)