---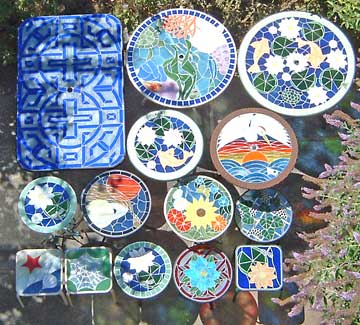 The Glass On Glass book contains all of the round tables
shown here plus a few more (the blue and white rectangle
is a modification of the pattern "Chinese Geometric";
not shown are "Plum Blossoms", "Summer Flowers",
"Tea Party" and the 48" Koi pond.
The small square tables will be part of Karen's next two books tentatively titled "Garden Light" and "Point of View". I hope to have copies of Garden Light available in spring of 08 and Point of View in fall of 08. Please contact me if you want to buy patterns before that: they work well as class projects.
Coordinated Luminaria and Birdbath patterns are coming soon too.
---
Glass on Glass:
Stained Glass Table Tops
You Can See Through
Pattern list by topic:
Chinese Geometric 48" round 304 pieces
with Peony (blue in photo) 21" 95 pieces
Geometric Rectangle shown is modified the from the round pattern in the book: please contact me if you want it.

Crane 30" round 156 pieces and 41 tiles

Coasters, shown on class page, 4" square 5 pieces each: lightning, sun, rainbow, storm (for beginning cutting practice)
Grapes 20" round 203 pieces

Koi Pond
48" round 424 pieces plus 62 commercial tiles
42" round 360 pieces plus 49 commercial tiles
26" round 171 pieces plus 30 commercial tiles
20" round 100 pieces (tiles are hand cut glass)

Planets 26" round 79 pieces plus 36 tiles

Plum Blossoms 20" round 147 pieces

Reef 42 round 246 pieces plus 60 tiles

Summer Flowers 48" round 914 pieces
Sunflower 20" round162 pieces (side table version of Summer flowers)

Tea Party 30" round 276 pieces plus 40 tiles
Buy book