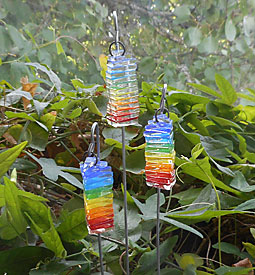 Disappearing Rainbows
Fused glass: they are very bright then nearly
disappear depending on your orientation,
just like real rainbows. Sold as spikes for plant
pots, $14 or weight-matched pairs, $27 for
hanging on branches (glass is about 2" long)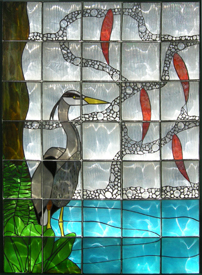 Heron on glass blocks
Glass appliqued to recycled 8" glass blocks.
56" high x 40" wide is about $2,000
Design can be expanded to fit space.

Tiles
can be made from most of my designs.
Just 2 tile shapes can make many patterns.
4" Bubble tiles shown are $29 each
Let's talk about what you need.

Icicles
Fused in a way that it sparkles just
like ice. Sold as spikes for plant pots, $14
or weight-matched pairs, $27, for hanging
on branches (glass is about 3" long)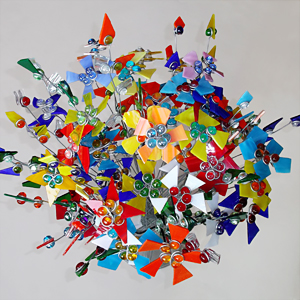 Frozen Flowers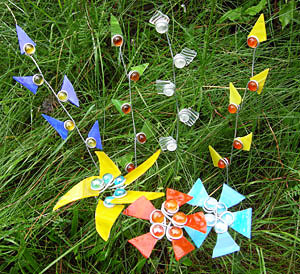 5 petals in round (4 to 5" across)
or linear formation (7" top to bottom
petal). Made from tumbled scrap
and galvenized wire. Fine for outdoors
or in your plant pots. Outlasts other
bouquets. $17.50 each, 3 for $49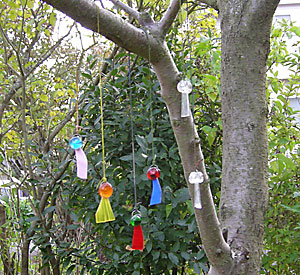 Tree 'rings
Bling for your tree. Weight-matched pairs
to dangle over branch so the tree can grow without
damage. Rainbow nylon string lasts years (those
pictured have been outside over 10 years).
$8.50 per wieght-matched pair, 9th is free.